Closing ceremony of 5th Worldwide Uchinanchu Festival – 31000 participants vow to continue exchange and to come together again
October 16, 2011 Ryukyu Shimpo
In the evening of October 16, the closing ceremony of the 5th Worldwide Uchinanchu Festival was held in spectacular fashion at the Okinawa Cellular Stadium in Naha City. A total of about 31000 people – Uchinanchu from overseas, other prefectures and locals – participated in the closing ceremony. This festival is held once every five years for people of Okinawan origin who live all over of the world.
This evening's performances featured a historical drama set in the years of the Ryukyu Dynasty, followed by a vibrant range of Okinawan songs and dances. The festival closed with a kachashi dance in involving all of the participants. The 5th Worldwide Uchinanchu Festival has now completed its four-day schedule with no let up in the level of excitement in a venue that hummed with excitement from start to finish. People were still hugging each other well after the closing ceremony had ended, with some even on the point of tears.
Bonds between people of Okinawan origin and local residents have been both deepened and renewed during the festival. Participants reconfirmed their "pride" as Uchinanchu and vowed to initiate further exchange so as to meet again in future.
(English Translation by T&CT, Mark Ealey)

Slideshow of Closing ceremony of 5th Worldwide Uchinanchu Festival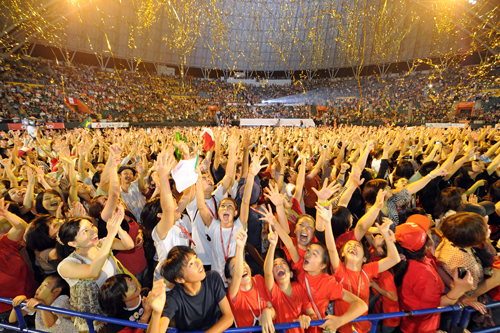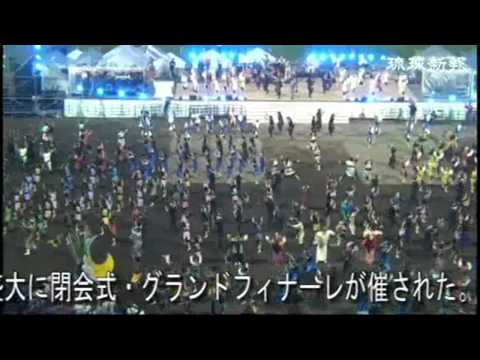 Go To Video
Previous Article:
One heart Uchinanchu at the opening ceremony of 5th Worldwide Festival
Next Article:
New Zealand researchers working on the English translation of Senka o Horu for publication in the United States
[Similar Articles
]