Record number of more than 5000 people to participate in the 5th Worldwide Uchinanchu Festival
October 7, 2011 Ryukyu Shimpo
On October 6, it was reported that the number of people planning to come to Okinawa from other prefectures and countries to take part in the 5th Worldwide Uchinanchu Festival has reached a record-high of almost 6000. The festival will be held over a four-day period from October 13 mainly at the Okinawa Cellular Stadium in Naha, with a preliminary event on October 12, the night before of its opening.
The figures are calculated from the number of people who have officially registered to participate in the festival. As of October 6, the total number of people who will participate in the festival from outside the prefecture amounted to 5899. Among them, participants from overseas countries amounted to 5191, the first time that this figure has exceeded 5000 people so the prefecture is readying itself for the largest worldwide Uchinanchu Festival ever.
The first group of 53 group participants from Brazil arrived at Naha Airport in the evening of October 6. According to a spokesperson of the 5th Worldwide Uchinanchu Festival Executive Committee, dozens of participants from outside the prefecture are coming into Okinawa every day. The spokesperson said, "Another 100 people are estimated to participate from the opening day of the festival."
The number of participants is estimated to end up at around 6000. The number from outside the prefecture for the 4th Worldwide Uchinanchu Festival was 4937, which was the largest number to date.
As of October 6, the participants from other prefectures amounted to 708, up by 164 compared with the previous festival. People from 23 countries and two regions (Hong Kong and New Caledonia) will participate.
In the breakdown of numbers of participants by countries, the United States claimed the top spot with 2898 (1060 from Hawaii), followed by Brazil with 1177, up 2.7 times from the previous festival, Peru with 325, up 30, and Argentina with 275, up 115, and Canada with 164, up 32.
The prefecture also welcomes participants from Guatemala (two) and Cambodia (four) for the first time.
The first group of 53 participants from Brazil were enthusiastically welcomed by around 100 people, including relatives, who looked forward to getting reacquainted with them or meeting them for the first time, the prefecture's Deputy Governor Yoshiyuki Uehara and Miss Okinawa in the arrivals area of Naha Airport.
The participants from Brazil and their relatives hugged each other emotionally, filling the area with happy cries and an air of excitement.
(English Translation by T&CT, Mark Ealey)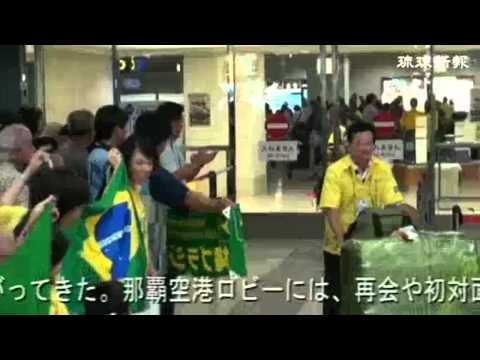 Go To Video
Previous Article:
122 billion yen paid by Japan for the relocation of U.S. forces to Guam but its use is still up in the air
Next Article:
Executive Committee to honor seven brave Hawaiian Uchinanchu who transported 550 pigs to their homeland following the devastation of war
[Similar Articles
]