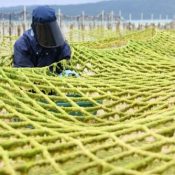 April 20, 2020 Ryukyu Shimpo
At a sea lettuce farm in Yaga, Nago City, the asa sea lettuce—a popular spring food, is in peak harvest. The blooming asa has covered the coast in a beautiful green carpet.
On the morning of April 19, sea lettuce farmers went out to the beach during low...