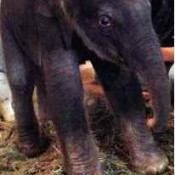 March 6, 2015 Ryukyu Shimpo
On the evening of March 4, 14-year-old Indian elephant Ryuka gave birth to a baby girl weighing 100 kilograms at the Okinawa Zoo and Museum. This is the first elephant born in Okinawa and the 10th in Japan.
Ryuka started having contractions at 7:00 p.m. on...