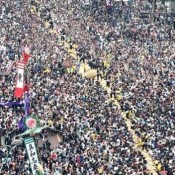 October 12, 2015 Ryukyu Shimpo
The 45th the Naha Tug of War was held at Kumoji intersection of Route 58 in Naha on October 11. About 275,000 people took part in the event.
The rope used in the tug of war is 200 meters long and weighs about 43 tons, and is recorded in the Guinness World...