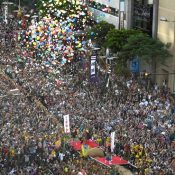 October 10, 2016 Ryukyu Shimpo
The 46th Naha Tug of War was held at the Kumoji intersection of Route 58 in Naha on October 9. According to the organizer, about 270,000 people took part in the event.
The crowd pulled on the rope for 30 minutes, with the West side winning the competitive...