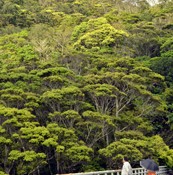 March 16, 2014 Ryukyu Shimpo
New green leaves have grown from the buds in the northern part of Okinawa, marking the beginning of spring.
On March 16, a clear day, people visited Nagao bridge on Okuni forest road in Kunigani Village to view the new green leaves.
On warm days in...