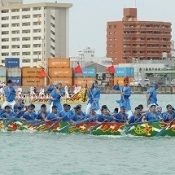 May 5, 2016 Ryukyu Shimpo
On May 5, the last day of the 42nd Naha Dragon Boat Festival, Naha's team won the official race for the first time in three years. Many spectators gathered at the festival and cheered for the racers.
Teams from Tomari, Kume and Naha competed in the official...