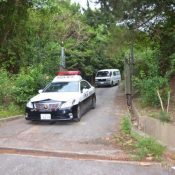 June 22, 2018 Ryukyu Shimpo online edition
On June 21 at about 2:00 p.m., an object resembling a bullet was reported found at a small work cabin in an orchard in Sukuta, Nago City. No one was injured, but two panes of glass in the cabin were damaged.
According to the property...