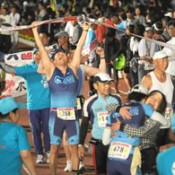 April 22, 2013 Ryukyu Shimpo
The 29th All Japan Triathlon Miyako-jima (co-hosted by Miyako-jima City and the Ryukyu Shimpo) was held on April 21 but had the swim part of the race canceled due to strong winds. As a result, it changed to a run-bike-run duathlon.
This is the first time...