Ukrainian Balokhin wins Miyako-jima triathlon again
April 22, 2013 Ryukyu Shimpo
The 29th All Japan Triathlon Miyako-jima (co-hosted by Miyako-jima City and the Ryukyu Shimpo) was held on April 21 but had the swim part of the race canceled due to strong winds. As a result, it changed to a run-bike-run duathlon.
This is the first time that such a duathlon has been held instead of the scheduled triathlon. The race started with a run of about 6.5 kilometers, then the bike section of 155 kilometers, and finally another run of 42.195 kilometers, making a total distance covered of about 204 kilometers. Anton Balokhin from the Ukraine won the men's race and Goertz Beate from Germany won the women's race, both securing their second consecutive titles.
Balokhin completed the men's race in a time of 7 hours 31 minutes 36 seconds. In second place was Yuto Kawara from Tokyo, and in third was Masayuki Matsumaru from Ibaraki.
Goertz in the women's race won with a time of 8 hours 27 minutes 58 seconds. The runner-up was Emi Sakai from Tokyo, and third was Lee Ji-hyeon from Korea.
A total of 1470 competitors (1294 male and 176 female) took part in the event and 1184 (1060 male and 124 female) completed the race. The race-completion rate was 80.5 percent and, while a comparison cannot be made with the regular event, this rate is the lowest ever in the Miyako Triathlon.
The weather was cloudy, the temperature at noon was 18.6 C with the wind speed 7.3 meters per second.
(English translation by T&CT, Lima Tokumori and Mark Ealey)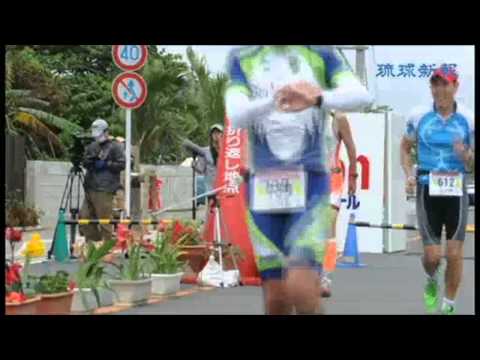 Go To Video
Previous Article:
Okinawan senior official repeats demand for relocation of Futenma Air Station outside of Okinawa
Next Article:
Taragara Awamori brewery wins grand gold awards of Monde Selection
[Similar Articles
]