More than ten thousand participants in the 2013 Okinawa Marathon
February 18, 2013 Ryukyu Shimpo
On February 17, the 21st Okinawa Marathon was held. The race started at Okinawa Comprehensive Athletic Park in Okinawa City. A total of 14233 participants competed, including 11612 in the full marathon, and 2621 in the ten kilometer road race. The event marked the largest number of entries ever recorded for the Okinawa Marathon. The number of participants who completed the full marathon within the time limit (six hours and 15 minutes) was 8576. As many as 73.85 percent of the contestants finished the race. The ten kilometer road race had 2595 finishers.
Thirty-two year-old Saga resident Tomonori Onizuka, who belongs to the Saga branch of Kyudenko, won the male-division with a time of two hours-23 minutes-58 seconds. Forty-three year-old Tokyo resident Hisako Sasaki won the female-division with a time of three hours-three minutes-35 seconds. Both won the contest for the first time.
The weather was fine at the start of the race with a temperature of 17C and 70 percent humidity. A south-easterly wind blew with a speed of five meters a second. Local residents, employees of local companies and volunteers supported the event by distributing snacks, fruit and water to the runners along the course. The participants smiled as they ran through the city's main streets.
(English translation by T&CT, Mark Ealey)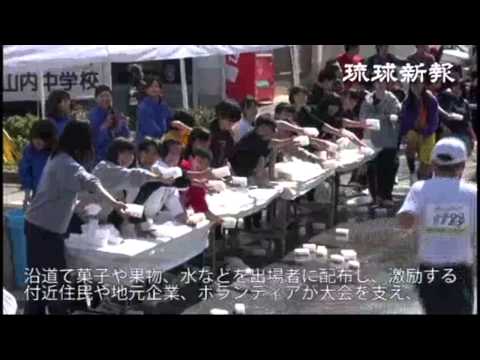 Go To Video
Previous Article:
Spoonbill recovers to return to the wild
Next Article:
Book helps author meet grandson of working woman in fishing town
[Similar Articles
]