Spoonbill recovers to return to the wild
February 15, 2013 Ryukyu Shimpo
On February 14, as its caregivers looked on, the black-faced spoonbill that had been receiving medical treatment in an animal hospital in Naha since the end of last year was safely released back to the wild. Its injuries have healed but the bird was becoming weak because its broken leg had made it unable to catch prey for itself. The spoonbill was looked after by the people at the Manko Waterbird and Wetland Center in Tomigusuku. The bird stepped out of a box at the center and walked around for a short while before taking off and flying up into the blue sky.
The bird was taken into care on December 22, last year. Some experts suggested that the bird was injured when its leg became hooked up in trash. Sakae Shinozaki, a staff member of the Naha Nature Conservation Office of the Ministry of the Environment, said, "We want to use this opportunity to bring to people's attention the garbage problem that is not only an eyesore, but is also negatively impacting upon wildlife."
An expert thinks that the bird is a juvenile born last summer. They released it with the identification number tag J16 attached to its leg. "It was fortunate for us to save this bird when we did because it was considerably weakened due to an infection it had in the joint of its foot," said Junji Takara, a member of the Wildlife Conservation Committee, the Okinawa Veterinary Medical Association and the vet who treated the bird.
(English translation by T&CT, Mark Ealey)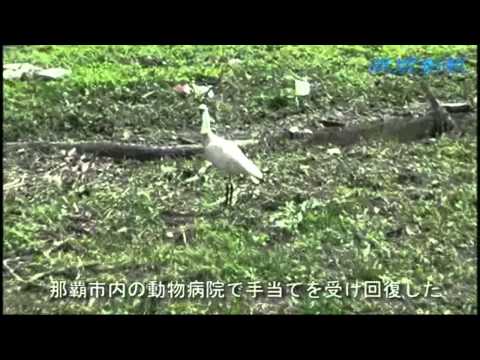 Go To Video
Previous Article:
Pumpkin production revives
Next Article:
More than ten thousand participants in the 2013 Okinawa Marathon
[Similar Articles
]