Final day of the Makishi Public Market in photos
Jun 17 2019 Ryukyu Shimpo
The dilapidated Makishi Public Market in Naha City is getting a facelift—Jun 16 was its last day of business before renovating. The market was lively until the very end. The shops, patrons, and nearby residents were all tearful, but positive. The market is an integral part of their life memories, and they promised to "see each other at the temporary market on July 1." Here we look back on the final day of the market in photographs.               
 The market's last day started rather quietly. Sometime before 7 a.m., Uehara Fruiterer owner, Nobuyoshi Uehara, 86, is the first shopkeeper to start setting up. He lined up his merchandise as usual. When Taiwanese tourists passed by, Uehara said in Taiwanese, "three apples for 500 yen." He laughed out loud and said, "I've never been to Taiwan, but I learned it [from doing business]." Endearingly referred to as "Okinawa's kitchen," the market has been a prominent tourist destination since the 1990's.
The market started to come alive as other shops began opening for business. An 83-year-old woman selling pickles, drew hibiscus flowers on her merchandise. She moved to Naha City from her hometown of Motobu in 1955. In the beginning, she sold brown sugar candy and ice cream cake on the streets. She said, "I had to give my baby ice cream cake when my breast milk wouldn't come in." She opened her pickle shop at the public market in her late twenties. Her business survived through the 1960s and 1970s, in which issues of relocation arouse and a fire occurred. She said her seniors "instilled 'grit' in me. I pray for them today." She plans on working at the temporary market with her grandchild, and said, "I want to see how the new market will turn out before I retire."
 At 2:30 p.m. a concert took place on the second floor of the market to commemorate the last day. Singer Yu Shimabukuro, who said the elderly shopkeepers of the market gives him energy, performed "Shimanchu nu Takara" (Okinawan Treasure) and said to the crowd, "Our true treasure is our Oji and Oba"—Okinawan terms of endearment for "grandpa" and "grandma", respectively.
 Junko Ohama, 76, will be retiring her gift shop Ohama Mingei, with the old market. Ohama had very few words to offer, as she looked around at the empty shop and said, "I will miss it. I'll get to relax; the younger generation can take over the new market."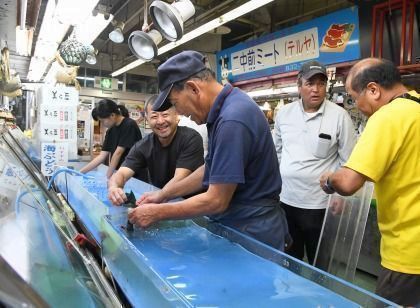 The after-hours relocation ceremony held in front of the market was brimming with local patrons and residents. The shopkeepers and the city's mayor Mikiko Shiroma vowed deeply to the crowd, showing gratitude for their patronship over the years. The crowd whistled and shouted their thanks as the entrance was shuttered for the last time.
 Okinawa International University's eisa club, the Ryukyu Fusha, put on a performance, to which the crowd joined in and danced the kachashi. The eisa performers raised their flags high towards the market's symbolic arched roof. The shopkeepers of the machigwa, or market, bowed deeply to the building after the ceremony.  
Yukiko Abe, a Naha City resident who has been a patron of the market for over 20 years, said: "The market offers the best medicine—food and smiling faces. The merchandise might change, but I hope the heart of the market remains unchanged."
(English translation by T&CT and Monica Shingaki)
Previous Article:
Okinawa Assembly unanimously adopts resolution protesting U.S. military fallen parts incidents
Next Article:
Despite promises to curtail incidents involving the U.S. military, the Japanese government's Okinawa regional safety patrol reports 75% of their incident responses involve drunkenness, only 0.7% involve the U.S. military
[Similar Articles
]