6000 people come together from across the globe, enjoy samba and hula in a parade in Kokusai Street
October 12, 2011 Ryukyu Shimpo
Several thousand people from 23 countries and two regions who came to participate in the 5th Worldwide Uchinanchu Festival marched in matching regional and national costumes in a parade in Kokusai Street in Naha City, at 4:00pm on October 12. Brazilian participants led by 1000 members of the samba corps moved lightly on their feet dancing to the rhythm of the drums during the parade.
The Hawaii Uchinachu troupe performed the hula dance in brightly colored costumes. Crowds of local residents who packed the sides of the road responded with hearty applause and high-fives, bringing a tangible air of excitement to Kokusai Street.
The opening ceremony of the festival will be held at the Okinawa Cellular Stadium in Naha City at 5:00pm on October 13. Many interactive events have been arranged for during the festival that lasts four days until October 16. According to the executive committee of the 5th Worldwide Uchinanchu Festival, approximately 6000 people from overseas or outside the prefecture will come to Okinawa.
(English Translation by T&CT, Mark Ealey)

Slideshow of 5th Worldwide Uchinanchu Festival parade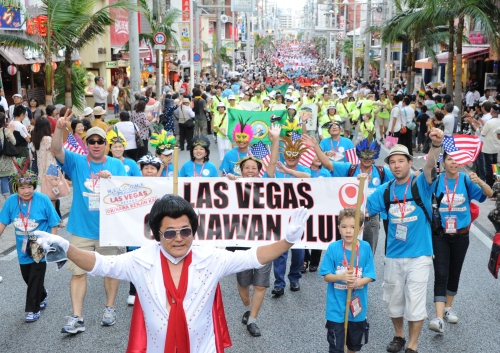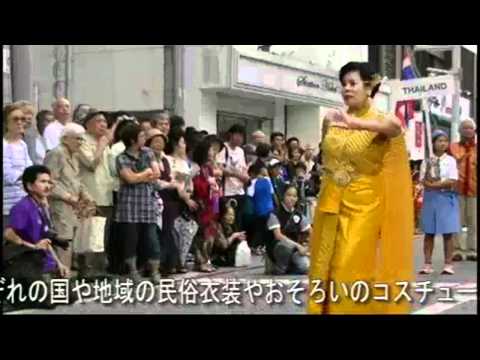 Go To Video
Previous Article:
Executive Committee to honor seven brave Hawaiian Uchinanchu who transported 550 pigs to their homeland following the devastation of war
Next Article:
One heart Uchinanchu at the opening ceremony of 5th Worldwide Festival
[Similar Articles
]