One heart Uchinanchu at the opening ceremony of 5th Worldwide Festival
October 13, 2011 Ryukyu Shimpo
Kicking off a four-day schedule of events, the opening ceremony of the 5th Worldwide Uchinanchu Festival was held in the evening of October 13 at Okinawa Cellular Stadium in Naha City. In his greeting speech on behalf of the organizers, Governor of Okinawa Hirokazu Nakaima addressed the participants saying, "You are a treasure of Okinawa – we are proud of you! We sincerely hope that together with local residents, the participants from abroad will enjoy the full range of events over the next four days."
The opening ceremony was attended by many distinguished guests, including Mr. Neil Abercrombie, the current governor of Hawaii. The "Worldwide Simultaneous Eisa Pageant," which was also held as part of the evening's entertainment, was an exciting event in which about 300 people, including members of overseas Kenjinkai there in person at the Okinawa Cellular Stadium joined Kenjinkai members back in their own countries in enjoying eisa at exactly the same time. This immediately lifted the atmosphere inside the venue to a fever pitch.
For the 5th Worldwide Uchinanchu Festival, the number of participants from 23 overseas and two regions reached a record-high of about 5200, and if we count those from other prefectures, there were over 6000 participants. Many exchange events, including the Champloo Festa, will be held during the period until October 16.
(English Translation by T&CT, Mark Ealey)

Slideshow of One heart Uchinanchu at the opening ceremony of 5th Worldwide Festival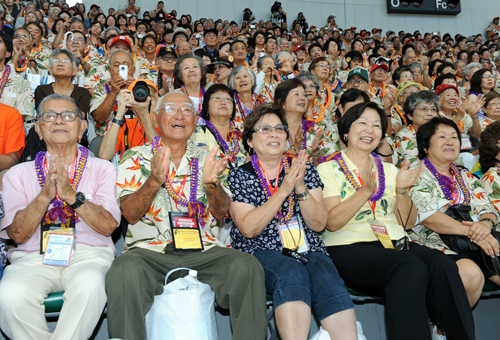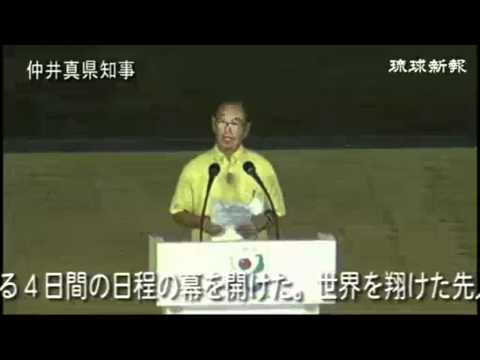 Go To Video
Previous Article:
6000 people come together from across the globe, enjoy samba and hula in a parade in Kokusai Street
Next Article:
Closing ceremony of 5th Worldwide Uchinanchu Festival – 31000 participants vow to continue exchange and to come together again
[Similar Articles
]