Children of Okinawan emigrants participate in 10000 people Eisa Dance Parade
August 8, 2011 Ryukyu Shimpo
"Ten thousand people Eisa Dance Parade" of the Summer Festival in Naha 2011, in which members of Youth Groups and Eisa groups from various parts of the prefecture took part in a vibrant dance performance, was held at Kokusai Street in Naha City on August 7.
Despite cloudy skies and a strong wind due to the after effects of Typhoon No.9, about 6000 participants from about 90 groups as well as independent participants took part in a boisterous parade down the street.
According to the event organizer, a total of 90000 visitors enjoyed the parade.
Twenty-three special participants, children of Okinawan emigrants, who were in Okinawa on the Okinawa Junior Study Tour, the pre-event of the 5th Worldwide Uchinanchu Festival, performed Eisa that they had practiced everyday since their arrival in the prefecture.
Smiling 14 year-old Jouji Oshiro, a first-year high school student from Bolivia, said, "I was thrilled to perform Eisa in front of the people of Okinawa. I hope that the 5th Worldwide Uchinanchu Festival provides an opportunity for everyone to share the feelings of Okinawa with each other."
(English Translation by T&CT, Mark Ealey)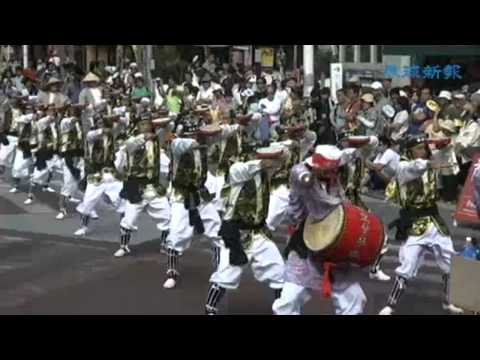 Go To Video
Previous Article:
U.S. veterans claim to have been exposed to toxic defoliant used in eight military facilities in Okinawa during the 1960s and 1970s.
Next Article:
Second-generation Okinawan Filipina reunited with her father in Okinawa
[Similar Articles
]