Climax of the Okinawa Zento Eisa Festival
August 22, 2011 Ryukyu Shimpo
On August 21, 15 groups took part in the final day of the 56th Okinawa Zento Eisa Festival which was organized by the 56th Okinawa Zento Eisa Festival Executive Committee, comprising representatives from Okinawa City, the Ryukyu Shimpo, Okinawa Television Broadcasting, Okinawa City Tourism Association and Okinawa City Youth Group Commission.
The ceremonial and dynamic Eisa dance, in which regional traditions are still very much in evidence, and a glamorous variant – a women's dance based on Ryukyu dance – were performed.
Koza Athletic Park, the venue for the festival, was packed with families and tourists enjoying the Eisa dance performance.
According to the event organizer, a new record of 330000 visitors enjoyed the festival over the three-day period, which included a michijune.
To bring the festival to a close, the members of the Yamazato Youth Group of Okinawa City performed a hearty Eisa dance that incorporated karate kata.
At the end of the festival the spectators participated in kachashi, a form of festive Ryukyuan folk dance, performed to the most popular of all kachashi dance songs: Toshin doi (A Chinese Ship Is Coming). An air of excitement prevailed throughout the event.
(English Translation by T&CT, Mark Ealey)
Slideshow of the 56th Okinawa Zento Eisa Festival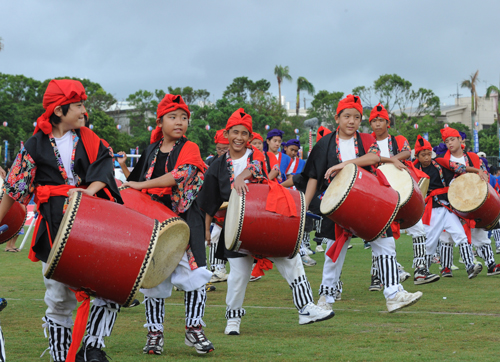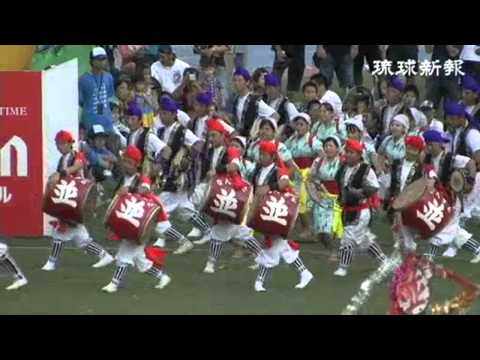 Go To Video
Previous Article:
Archival papers suggests U.S. military carried out nuclear weapon drill in Okinawa during 1960s
Next Article:
Rock band HY and RYUKYUKOKU MATSURI DAIKO take part in the Okinawa Zento Eisa Festival
[Similar Articles
]