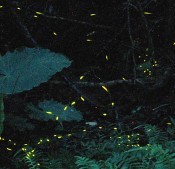 May 21, 2013 Ryukyu Shimpo
Since Okinawa entered the rainy season on May 17, fireflies have been adding a mysterious glow to the nights in Kijoka, Ogimi Village. They are the Luciola kuroiwae species of firefly, which is about 5 mm long.
People enjoyed the light show for about one hour...