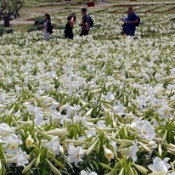 April 20, 2014 Yukito Kinjo, correspondent of Ryukyu Shimpo
The 19th Lily Festival started at Lily Field Park in Ie Village on April 19.
The flower will be in full bloom by the end of the month when Golden Week holidays start. About 100 flowers will form a white carpet to fill the park....