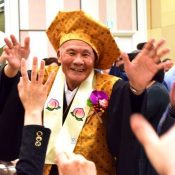 May 4, 2017 Ryukyu Shimpo
Ginowan Rotary Club held a party to celebrate Dr. Yoshio Tanaka reaching his 100th year. Dr. Tanaka is currently 99 years old. One hundred and fifty people gathered to celebrate at the party.
Tanaka was born in Taiwan in 1918. He learned about a shortage of...