More MV-22 Ospreys arrive on Futenma
August 12, 2013 Ryukyu Shimpo
In the morning of August 12, the U.S. Marine Corps resumed the deployment of additional MV-22 Osprey to Futenma Air Station. The U.S. military suspended this, considering the reaction of Okinawan residents after a Kadena based HH-60 rescue helicopter crashed in Ginoza. Of the remaining ten Osprey aircraft at the Iwakuni Air Station in Yamaguchi, eight took off from the base one after another from 8:00 a.m., with the first two aircraft arriving at Futenma at 10:15 a.m. Eight had landed by 10:23 a.m.
The Marines announced at 7:00 a.m. on August 12 that in close coordination with the Japan government, the decision had been made to resume the deployment of MV-22 Osprey aircraft, and that the aircraft and crew were scheduled to begin arriving today at Futenma. The Okinawa Defense Bureau told the municipalities, including the Okinawa Prefectural Government and Ginowan City.
The U.S. military moved two of the additional 12 aircraft to Futenma on August 3 and announced that the other ten would arrive in Okinawa from Iwakuni on or after August 5. However, when the helicopter crash occurred on August 5 the Japanese government asked the U.S. to temporarily suspend the additional deployment, which the U.S. agreed to. A squadron of 12 Osprey aircraft arrived at Iwakuni from the United States on July 30, and the Marine Corps had planned to move them to Okinawa from that point on.
The Marine Corps emphasizes that the performance of the MV-22, including its range and speed, is significantly better than its predecessor, the CH-46 Medium Transport helicopter. However, concerns about its safety have remained because of several crashes during and since the aircraft's development stage.
(English translation by T&CT, Mark Ealey)
Special edition of Ryukyu Shimpo news on August 12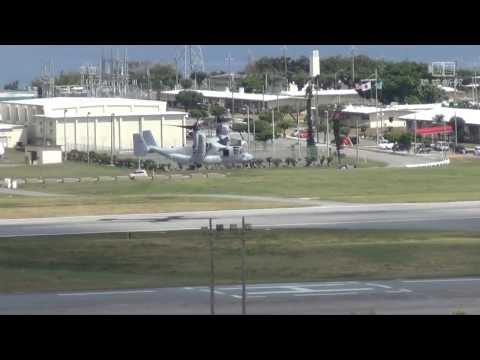 Go To Video
Previous Article:
Oliver Stone says the war isn't over in Okinawa
Next Article:
Oliver Stone visits Okinawa
[Similar Articles
]