Oliver Stone says the war isn't over in Okinawa
August 15, 2013 Ryukyu Shimpo
The Ryukyu Shimpo invited two-time Academy Award-winning director Oliver Stone to an event celebrating the 120th anniversary of the establishment of the newspaper at the theater in the Okinawa Convention Center in Ginowan. Okinawa Television supported the event, which was held in the evening of August 14.
Stone said the U.S. military bases in Okinawa are reminiscent of the Cold War-era, and that the war still seems to continue in the relationships between the United States, Japan and Okinawa. He questioned the continuing existence of the military bases 20 years after the end of the Cold War.
Before the event, Stone visited the Henoko district of Nago, where the U.S. and Japanese governments plan to build an alternative facility to Futenma Air Station. He opposes the plan to reclaim an area of sea off Henoko, which he described as hosting bounteous amounts of coral and marine life. He said that he is embarrassed that the U.S. military is to build a new base that could destroy the area and make it ugly, negatively affecting Okinawan culture.
Stone voiced his concern about the continuing presence of the bases more than 60 years after the end of the war and about the Henoko land reclamation. He said that seeing China as a threat only serves to create tension in Asia.
Peter Kuznick, professor of history at American University, Masahide Ota, former Okinawa Governor and Satoko Norimatsu, director of the Peace Philosophy Centre
took part in a panel discussion with Stone.
Stone and Kuznick criticized U.S. hegemonism, saying that while they claim to do so, the U.S. government has not reduced the excessive burden on Okinawa of hosting U.S. military bases. The two asserted presidents and politicians cannot be trusted because the government does not tell the truth.
The event attracted 1,700 people, who listened attentively to Stone and the other panelists.
After Stone and his companions held a press conference at the Ryukyu Shimpo in Ameku, Naha in the morning of August 15 they departed from Naha Airport.
(English translation by T&CT, Mark Ealey)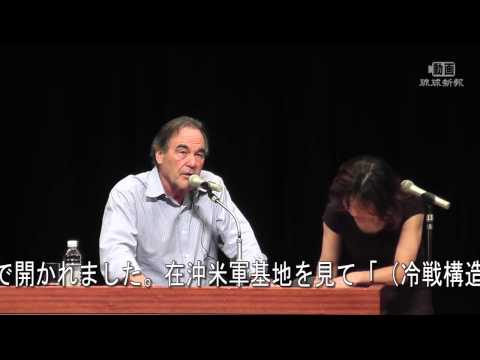 Go To Video
Previous Article:
Okinawa's largest plant factory to be built in Ogimi
Next Article:
More MV-22 Ospreys arrive on Futenma
[Similar Articles
]