Marine Corps completes deployment of 12 Ospreys to Futenma
October 7, 2012 Ryukyu Shimpo
On October 6, the U.S. Marine Corps moved the remaining three MV-22 Ospreys that had been at U.S. Iwakuni Air Station to U.S. Marine Corps Air Station Futenma. The Marines have now completed the deployment to Okinawa of all of the 12 aircraft that had been at Iwakuni temporarily since July. The Corps will carry out MV-22 training in conjunction with marine infantry units based in Futenma. In addition, the Corps will send several aircraft to Camp Fuji, in Shizuoka Prefecture and to Iwakuni on a monthly basis, and will conduct training, including low-level flight training, in Honshu, Shikoku and Kyushu. On October 9, Okinawa Governor Hirokazu Nakaima met with Prime Minister Yoshihiko Noda to request the withdrawal of the Osprey from the prefecture.
According to the Okinawa Defense Bureau, the last three aircraft took off from Iwakuni Air Station one after another at 12:24pm on October 10, arriving at Futenma at before 3:00pm that afternoon. The three aircraft passed over urban areas when moving from Naha to Urasoe and then on to Ginowan. A reporter of the Ryukyu Shimpo witnessed one of the aircraft flying over Ginowan in helicopter-mode with the rotors facing upwards. In the Japan-US agreement governing the deployment of the Osprey, the aircraft are limited to using helicopter-mode only flying above bases. However, there is now growing concern in the prefecture about the effectiveness of the safety measures that the Japanese and U.S. governments have agreed upon.
On October 1, six aircraft arrived at Futenma, and on October 2 another three aircraft landed. The Marine Corps conducted flight training on two consecutive days from October 4. The Osprey have taken off and landed at bases in the central and northern parts of the main island of Okinawa and on the Ie Auxiliary Airfield.
The three aircraft that moved to Okinawa on October 6 were behind schedule in flying to Futenma because they needed parts to be replaced. The U.S. military is planning to deploy an additional 12 Osprey aircraft to Futenma by 2014.
Okinawa governor criticizes the government for going ahead with the Osprey deployment
On October 6, Governor Hirokazu Nakaima indicated his strong dissatisfaction with the two governments because the U.S. Marine Corps has deployed all 12 MV-22 Osprey vertical take-off and landing aircraft to Futenma Air Station. "We have no option but to protest to the government," the governor told reporters in Naha. The agreement on the safe operation of the Osprey has become a dead letter. Nakaima said, "The governments have forced these aircraft on Okinawa despite the agreement surrounding them being useless. I think that the Osprey being pushed on us like this is a real problem."
(English translation by T&CT, Mark Ealey)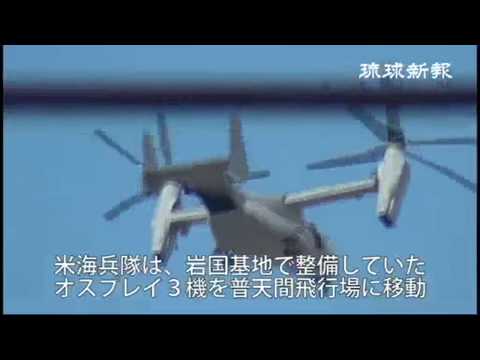 Go To Video
Previous Article:
Urasoe Commercial HS team presents "soil from Koshien" to player
Next Article:
270000 people enjoy huge tug of war in Naha
[Similar Articles
]