270000 people enjoy huge tug of war in Naha
October 8, 2012 Ryukyu Shimpo
On October 7, the 42nd Naha Ozunahiki (Naha Tug of War) was held at the intersection of Route 58 in Kumoji, Naha. According to the organizers, about 275000 people participated in the festival, enjoying the vibrant atmosphere of the event in which huge numbers of people pull on a giant straw rope 200 meters long and weighing 43 tons. The tug of war is between the East team (the male rope) and the West team (female rope) and is held over a maximum of 30 minutes. Loud cheers went up from the crowds of people lined up on the roadside. The West team won this year's contest, generating a result for the first time in four years.
The Naha Tug of War is an annual traditional festival held to pray for happiness and peace. In his speech, Naha mayor Takeshi Onaga, who is the chairperson of the festival organizing committee, said, "I am deeply moved to see the Naha Ozunahiki this year that marks the 40th anniversary of Okinawa's reversion to Japanese sovereignty. It has grown to become a citizens' event that we can proudly show to the world."
The total score through the years is 13 wins, 12 losses and 14 draws for the West team against the 12 wins, 13 losses and 14 draws for the East team.
(English translation by T&CT, Mark Ealey)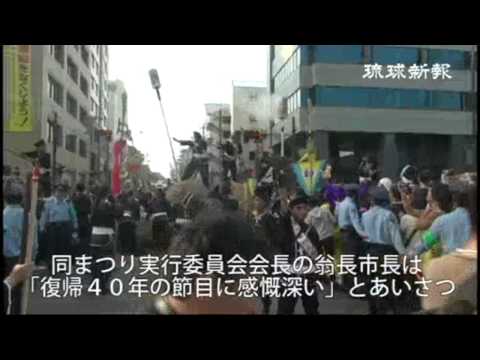 Go To Video
Previous Article:
Marine Corps completes deployment of 12 Ospreys to Futenma
Next Article:
Naha Port Council has business model project to export used cars abroad
[Similar Articles
]