Excitement around 43-ton giant rope
October 10, 2011 Ryukyu Shimpo
In the afternoon of October 9, the 41st Naha Ozunahiki or Naha Giant Tug-of-War, which was recorded in the Guinness Book of World Records as the world's largest rope in 1997, was held at Kumoji intersection on Route 58 in Naha City. The event was organized by the Office of the Conservation Society of the Naha Giant Tug-of-War.
The organizers announced that a total of 275000 people came to the event. The people by the rope pulled with all their might, calling out "haa-iya" amid the white-hot atmosphere of the afternoon.
Many of the people of Okinawan decent who came to Okinawa to participate in the 5th Worldwide Uchinanchu Festival which is due to start on October 13 also participated in the Naha Giant Tug-of-War. They each pulled the rope with their own particular motivation in mind, but all enjoyed what is without a doubt a significant event in Okinawa, their ancestral home.
The rope is 200 meters (656.2 feet) long, 1.56 meters (5.1 feet) in diameter, and weighs about 43 tons (94800 pounds). The participants separated into the East and West teams and pulled on 280 thin ropes connected to the main giant rope. A result could not be gained within the 30-minute time limit, so this year's tug-of-war ended in a draw. The overall statistics of the East and West teams are even, at 12 wins, 12 losses, and 14 draws.
Performances of hatagashira and karate before the tug-of-war started served to set the stage for the tug of war.
According to the Guinness World Records website, the current record of the world's largest rope is held by a rope in South Korea in 2005, which was 251 meters (823.5 feet) long and 2.2 meters (7.2 feet) in diameter.
(English Translation by T&CT, Lima Tokumori and Mark Ealey)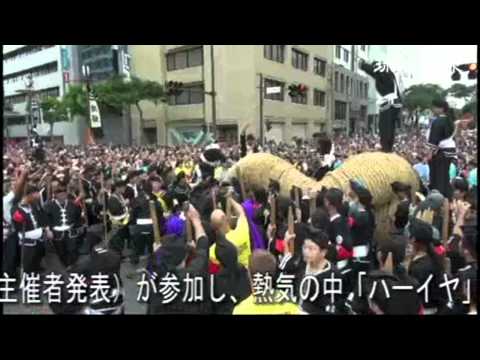 Go To Video
Previous Article:
40th anniversary coin of Okinawa's reversion will be issued with a full-color Shuri Castle design
Next Article:
Okinawan information exchange social networking site set up by a third-generation Okinawan from Hawaii proves to be popular
[Similar Articles
]