270,000 people take part in huge tug of war in Naha
October 14, 2013 Ryukyu Shimpo
The 43rd Naha Ozunahiki (Naha Tug of War) was held at the Kumoji intersection of Route 58, in Naha on October 13. According to the organizers, about 277,000 people took part. The people pulled on a giant straw rope 200 meters long and weighing 43 tons, which the Guinness Book of World Records recorded as the world's largest. The participants separated into the East and West teams and after the 30-minutes of tugging on the rope, the judges decided that the East team had won. This is the fifth time that the winners have been decided in this manner.
The score of 13 wins and 13 losses each plus 14 draws through the years leaves the teams tied in terms of overall results.
Before the tug of war, the hatagashira parade set off from Tsuboya Elementary School in Naha. With 14 flags from both the teams ready at the intersection of Route 58 in Kumoji, the flag-waving competition began. The participants then held the kanuchichiji ceremony to connect the male rope of the east side with the female rope of the west side.
The tug of war commemorated the establishment of Naha City as Okinawa's major urban area. Minoru Higa, the head of the Naha Ozunahiki Preservation Association, said, "We have been blessed with fine weather. I would like the participants to really enjoy this traditional festival."
(English translation by T&CT, Mark Ealey)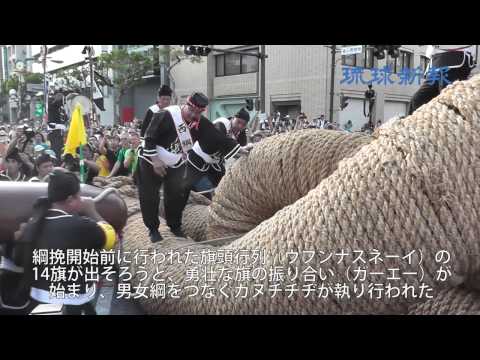 Go To Video
Previous Article:
[Editorial] Testimonies prove "comfort women" recruited by force
Next Article:
Memorial Service for 10.10 Air Raid held
[Similar Articles
]