Resident arrested in sit-in protest against further deployment of Osprey
August 4, 2013 Ryukyu Shimpo
Two MV-22 Osprey aircraft arrived on August 3 at U.S. Marine Corps Air Station Futenma from Iwakuni in Yamaguchi. They are the first of an additional 12 tilt-rotor aircraft, which take off and land like a helicopter. One person was arrested in front of the base's Nodake Gate in clashes between the police and residents opposed to the Osprey. This is the first such arrest in the sit-in protests. Anger towards the U.S. military is growing because military officials went ahead with the deployment of the Osprey despite opposition from residents.
In an "unexpected response," while U.S. Marine officials opened the aircraft to the media, they did not reply to key questions. Locals' concerns over the risk of crashes or noise from aircraft have not been addressed, so residents' fears have increased.
At 8:30 a.m. on August 3, about 60 people succeeded in temporarily blocking the entrance to the base by holding a sit-in in front of the gate. The police forcibly cleared the way to allow traffic to flow, lifting up and removing passively resisting protesters. During the struggle between the police and citizens, one protester was arrested for interfering with a police officer in the line of duty. Confusion reigned for several minutes as residents objected, shouting, "Unfair arrest!" and "Let him go!"
Setsuko Ohama, 67, voiced her anger towards the police use of force, saying, "We have opted for the minimum level of resistance available to us now. Why do they stop us?"
With occasional breaks, the protest rally continued under the hot sun.
When an Osprey aircraft suddenly appeared in the sky and roared through the Nodake area at about 4:30 p.m. residents shouted, "Go home Osprey," "We will not allow more Ospreys." More than 200 people took part in the rally, chanting and raising their fists against the Osprey.
(English translation by T&CT, Mark Ealey)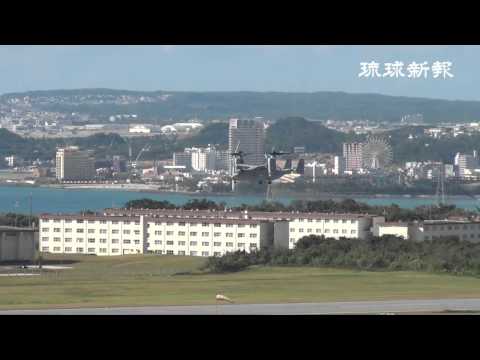 Go To Video
Previous Article:
Battle of Okinawa PTSD symposium held at Hitotsubashi University
Next Article:
Ogimi Village to restore indigenous beans
[Similar Articles
]