Protest march against deployment of more Osprey to Okinawa
July 6, 2013 Ryukyu Shimpo
The Okinawa Peace Movement Center held a protest march on July 5 against the deployment of more Osprey to Okinawa, and has demanded the removal of the aircraft from the prefecture. About 60 people marched from Nodake Gate of U.S. Marine Corps Air Station Futenma in Ginowan to Ishihira Gate of Camp Foster in Kitanakagusuku.
The U.S. military plans to place 12 more MV-22 Osprey aircraft to Futenma Air Station at the beginning of August. Shouting, "Do not allow the U.S. military to bring more Osprey to Okinawa," the marchers protested against the U.S. and Japanese governments forcing through this plan.
The center held the march to coincide with the protest action against stationing Osprey to Okinawa that they hold every Friday.
In the rally held in front of Nodake Gate before the march, the secretary-general of the center, Takashi Kishimoto said, "We are angry about the plan that the governments are forcing through. We must stand firm and denounce it. Sharing the anger of the Okinawan people, we will voice our protest."
(English translation by T&CT, Mark Ealey)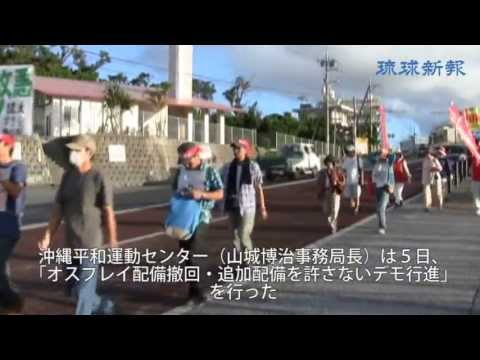 Go To Video
Previous Article:
Milky Way shines in Star Festival on Yonaguni
Next Article:
Okinawa governor asks Japanese government to cancel plan to deploy more Osprey to Okinawa
[Similar Articles
]