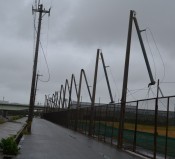 December 4, 2014 Ryukyu Shimpo
On the morning of December 4, damage was caused by a wind gust in Tomigusuku and Uruma. No human damage was reported.
According to the Tomigusuku Police Station, strong winds have bent more than 20 pillars at Seaside Golf Club in the Yone district of Tomigusuku.
The...