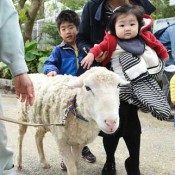 January 1, 2015 Ryukyu Shimpo
This year is the year of the Sheep in Chinese astrology. Two sheep from a pasture in Kyushu have joined the Okinawa Zoo and Museum in Okinawa City. One is a two-year-old male and the other is four-year-old female.
The sheep have 100 percent natural wool...