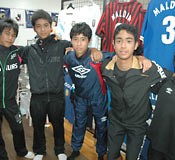 July 19, 2012 Ryukyu Shimpo
Five junior high-school students who belong to a football club in Nago, Escuela de Barbie Futbol, will go to Argentina for two weeks from August 10. They are looking forward to their experience in the home of football.
When he was in his teens, the head of...