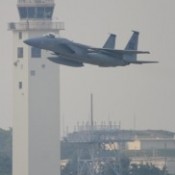 March 10, 2014 Ryukyu Shimpo
As of 8:40 a.m. March 10, Kadena Air Base has resumed flights of F-15 fighters. The base had stopped flying the aircraft because it made an emergency landing with its windshield having fallen off on March 4.
Three F-15 fighters took off at 8:40 a.m., and...