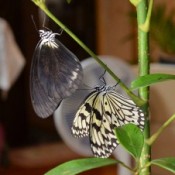 September 26, 2013 Ryukyu Shimpo
The rice paper butterfly characterized by its black and white patchy pattern is the largest butterfly in Japan. Its black color variety was found on September 25. It is very rare to see such a butterfly.
The butterfly has wings that are more than 90 percent...