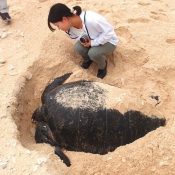 June 7, 2016 Ryukyu Shimpo
By Nana Sasahara
On May 30, at Yubukuhama beach on Tonaki Island, a local resident found a green sea turtle unable to move in the sand and notified the village office.
The turtle was 130 cm in length. It seemed that the turtle was trapped in a hole, which...