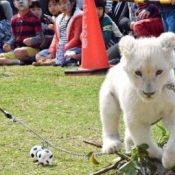 March 27, 2017 Ryukyu Shimpo
On March 26, at the Okinawa Zoo and Museum in Goya, Okinawa City, a welcome ceremony for a male white lion cub from the Tohoku Safari Park in Fukushima was held.
White lions are rare and can only be seen in eight zoos in the country. Many parents and children...