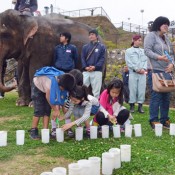 March 19, 2015 Ryukyu Shimpo
On March 17, two elephants that spent the winter season at the Okinawa Zoo and Museum in Okinawa City went back to Fukushima.
A farewell party for them was held on March 15 at the zoo.
The two Asian elephants, Tonsai and Boonthong, came to Okinawa...