[Extra] Gov. Onaga says he will revoke approval of landfill in Henoko
September 14, 2015 Ryukyu Shimpo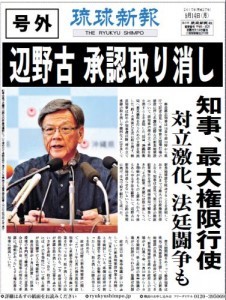 Okinawa Governor Takeshi Onaga has that he is preparing to revoke his predecessor's approval of landfill in Henoko, Nago. He announced his decision at a news conference held in the morning on September 14. In Henoko, the governments of Japan and the United States are advancing their plan to build a base to replace U.S. Marine Corps Air Station Futenma in Ginowan.
On the same day, the prefectural government notified the Okinawa Defense Bureau that a hearing will be held.
It will take about one month to complete the procedures required to revoke the approval.
Governor Onaga, who has opposed the Henoko relocation plan, won last year's gubernatorial election against the former Governor Hirokazu Nakaima, who favored the central government's plan.
Since taking office, Onaga has continued to insist that he will revoke or withdraw his predecessor's approval of the landfill. Now, he will exercise his full administrative authority.
The governor stated, "We have scrutinized a report submitted by a third-party committee. It identifies a flaw in the former governor's approval. "He said, "I will work with full force to fulfill my policy pledge that I will use all measures not to allow the governments to build a new U.S. base in Henoko."
(English translation by T&CT)
Previous Article:
Yoga practice at ruins of Chinen Castle
Next Article:
Okinawa ranks No.1 in tourist satisfaction for seven consecutive years
[Similar Articles
]