[Extra] Okinawa Governor revokes approval of landfill in bid to block new US base construction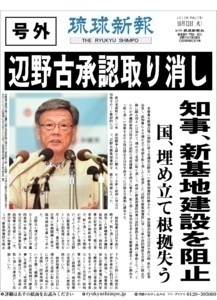 October 13, 2015 Ryukyu Shimpo
Okinawa Governor Takeshi Onaga announced at a news conference held at 10 a.m. on October 13 that he had revoked his predecessor's approval of landfill in Henoko, Nago. In Henoko, the governments of Japan and the United States are advancing a plan to build a base to replace U.S. Marine Corps Air Station Futenma in Ginowan.
It is the first time that the Okinawa Prefectural Government has exercised its legal authority in order to prevent construction of U.S. base in Henoko.
This is an unusual situation where the central government has lost its legal basis to continue construction work for the new U.S. base.
Okinawa Defense Bureau will take legal countermeasures against the governor's revocation.
(English translation by T&CT)
Previous Article:
Gov. Onaga revokes former governor's approval of landfill in Henoko
Next Article:
Sit-in protesters explode in celebration of Gov.Onaga's revocation of approval of landfill for new US base
[Similar Articles
]