Chinese are biggest spenders among foreign tourists in Okinawa: survey
May 28, 2015 Ryukyu Shimpo
The Chinese are the top spenders among foreign tourists visiting Okinawa Prefecture, with each person dishing out an average of 155,191 yen, up 1.7% from the previous year, according to a survey released on May 27 by the Okinawa Prefectural Government (OPG).
Releasing the preliminary data on tourists traveling by air to Okinawa for fiscal 2014, the OPG culture, tourism and sports division said foreign tourists on average spent 106,051 yen per person, up 9.8% from the previous year. The figure exceeds the 100,000-yen threshold. This particular survey has been conducted since fiscal 2012.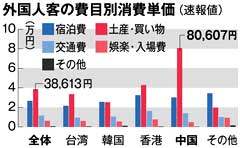 The survey has again demonstrated foreign tourists' major contribution to the local economy. They are rapidly growing in number and spend about 30,000 yen more than tourists from the rest of Japan.  
For the survey, OPG researchers met with foreign tourists at the international boarding areas of Naha Airport and New Ishigaki Airport. They collected data through questionnaires and interviews, obtaining 1,768 responses during a total of six survey sessions — four in Naha and two in Ishigaki.
Among the respondents, 86.7% were first-time visitors to Okinawa. Foreign tourists on average stayed 3.72 nights, down 0.23 from the previous fiscal year. Responding to multiple answers, the tourists said their activities in Okinawa included; "urban sightseeing and city walk" (85.6%), "seeing nature and scenic spots" (84.6%), and "shopping" (82.0%). Shopping saw a 10.4 percent increase from the previous year.
Among items purchased in Okinawa, "sweets" topped the list at 76.2%, followed by "medicinal products" (51.7%), "food (other than sweets) and beverage" at 51.1%, and "cosmetics and perfume" at 42.9%.
The amount of money spent by foreign travelers to Okinawa has been rising — 83,336 yen per person in fiscal 2012 and 96,548 yen in fiscal 2013, an increase of 15.9%.
A look into the 106,051 yen expense from the fiscal 2014 data shows that average foreign travelers spent 38,613 yen on "souvenirs and shopping," 26,694 yen on "accommodation," 22,186 yen on "dining and drinking," 11,614 yen on "transportation within the prefecture," 6,275 yen on "entertainment admission fees," and 668 yen on the rest.
Of the average 155,191 yen spent by Chinese visitors, "souvenirs and shopping" accounted for 80,607 yen, indicating that Chinese tourists spend a remarkably high proportion of their travel budget on souvenirs.
The OPG surveyed foreign tourists in 2005 but it had not done so during the 2006-2009 fiscal years.
(English translation by T&CT and Miwa Murphy)
Previous Article:
War memories must be preserved; pledge made at Memorial Ceremony in Tinian
Next Article:
"Kokusai dori yatai mura" opens on June 19 at the site after Grand Orion
[Similar Articles
]