Okinawa's annual tourism revenue exceeds 600 billion yen for the first time in 2015
June 28, 2016 Ryukyu Shimpo
The Okinawa Prefectural Government announced on June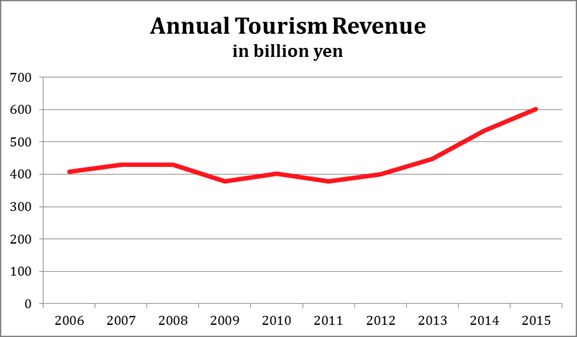 27 that Okinawa's tourism revenue for 2015 was 602,214,000,000 yen. This is a 12.7 percent increase from the year before, the highest annual revenue to date for the third year in a row, and the first time that the annual revenue has reached the 600 billion yen mark. The drastic rise in numbers of foreign tourists has boosted revenue overall. Tourists spent 75,881 yen per capita, 1.9 percent more than in the previous year. Per capita expenditure by tourists reached a record high in 2006 and has increased each year since.
In 2015, domestic tourists' expenditure per capita rose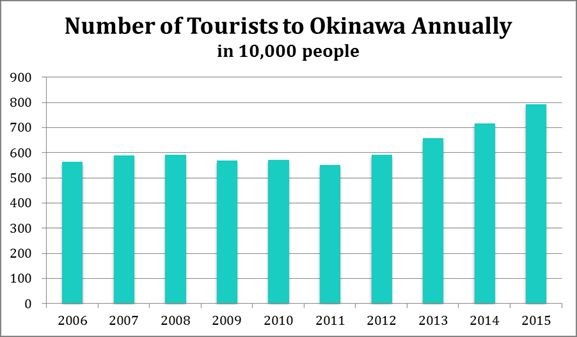 from the previous year by 2 percent to 74,083 yen. Foreign tourists who came by plane spent 107,302 yen per capita, a 12 percent increase, while foreign tourists who came by boat spent 25,973 yen per capita, a 2.9 percent increase.
A breakdown of per capita expenditure shows that in 2015 lodging expenses accounted for about 30 percent of a tourist's spending on a trip at 23,217 yen, a 4 percent increase from the previous year; souvenir and shopping expenses accounted for 17,149 yen, a 4.7 percent increase; and amusement including park entry fees accounted for 6989 yen, a 5.8 percent increase.
The average length of a tourist's stay in Okinawa has decreased to 3.83 days. This is shorter stay by a one-hundredth of a day compared to 2014.
(English translation by T&CT and Erin Jones)
Previous Article:
U.S. military rejects survey of buried cultural artifacts, cites supplementary agreement
Next Article:
Dene Magna School students from England visit Okinawa
[Similar Articles
]