100th All Okinawa Bullfighting Tournament
November 11, 2013 Ryukyu Shimpo
The Okinawa Prefectural Bullfighting Federation and the Ryukyu Shimpo held the 100th All Okinawa Togyu (Bullfighting) Autumn Tournament at the Ishikawa Multipurpose Dome on November 10. Twenty-six bulls competed in 13 bouts in the largest bullfighting event in Okinawa. The defending champions defeated the challengers in every weight class.
This event marked the 100th occasion that autumn and spring tournaments have been held since its establishment in 1962. About 5,000 fans and tourists attended the event, excitedly cheering on the bulls as they smacked head first into one another.
In the open-class championship, Furugen Motors☆Wakariki defeated debutant Oyawakadaisho in a bout that lasted 3 minutes and 54 seconds, thereby keeping the champion's flag in his first title defense.
In the under 970-kilogram middle-weight class, current champion Toshohayate defended his title for the fourth time, defeating Hachinantogairaimu. Ryujinjanaoyakata got though his first title defense in the under 850-kilogram light-weight class.
By successfully defending his title, Furugen Motors☆Wakariki is recognized as the strongest bull in Okinawa. His owner, Masahide Sakugawa, said, "I am happy to say the least. It is marvelous to be able to win the 100th tournament. We worked very hard to achieve this."
Sakugawa said, "Wakariki fought just as I hoped he would. I thought that he would win if he could fight on his terms."
Sakugawa started working in bullfighting 20 years ago and won the 75th tournament in 2000. Because they are similar in facial appearance and physique, he gave Wakariki the same name as a bull that used to win tournaments.
In preparation for the competition, Sakugawa trained his bull as he always does. He said, "It is important to fix the weak points in your bull's fighting style. I want him to be able to continue defending his title."
(English translation by T&CT, Mark Ealey)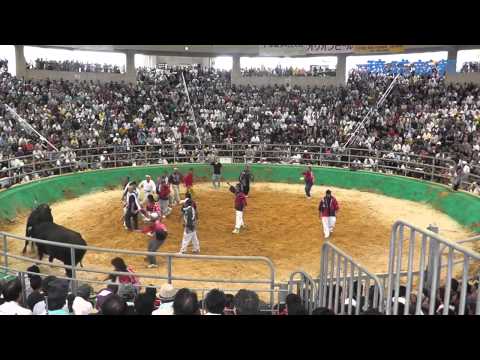 Go To Video
Pros of buying Viagra online:
Wondering why you should buy Viagra online at all? Okay with your current routine that requires regular visits to your doctor in order to get and renew your prescription? Well, looks like you don't really know what you're missing. Read on – there's more to ordering Viagra over the Internet than meets the eye.
Previous Article:
OPG asks Defense Bureau another 73 questions on Henoko landfill
Next Article:
Drying dolphinfish in the sun in Kunigami
[Similar Articles
]