Unjami Festival in Ogimi
August 26, 2012 Ryukyu Shimpo
The Unjami Festival was held in Shioya Bay and other areas of Ogimi on August 25. Designated as one of Japan's significant intangible folk cultural assets, the event features the Ugan Barley dragon boat race and Okinawan shaman or kaminchu praying for good health and a bountiful catch.
Undeterred by pouring rain, many people took part in the festival.
The Unjami Festival is held every year in the seventh month of the lunar calendar following the Bon season. The festival in Shioya dates back 400 or 500 years to the time of the Ryukyu Kingdom.
At a shrine in Tanna, the kaminchu prayed for a productive season growing grain. They then served the villagers and other participants sacred sake. At a shrine in Yafu, kaminchu holding bows in their hands moved around a pole to pray for a good harvest, chanting "Yonkoi" under "Kumu" blinds made of straw.
In the Ugan Barley dragon boat race, men rowed boats with kaminchu on board towards the coast of Shioya. On the shore women waded into the water up to their waist, cheering and beating drums as they greeted the boats.
A dance for a good harvest followed the festival the next day.
(English translation by T&CT, Mark Ealey)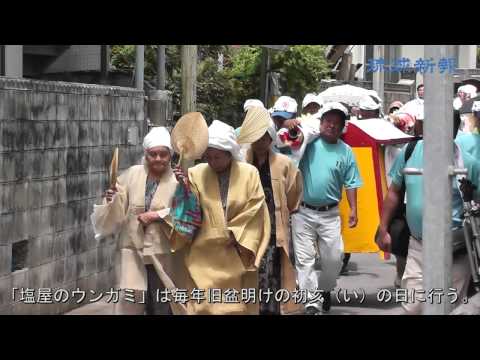 Go To Video
Previous Article:
Coral bleaching confirmed at Kunigami for the first time since 1998
Next Article:
British missionary Bettelheim court-martialed during American Civil War
[Similar Articles
]