Unjami Festival held in Ogimi Village
August 25, 2011 Ryukyu Shimpo
The Unjami Festival, an event designated as one of Japan's significant intangible folk cultural assets, was held in Shioya Bay and other areas of Ogimi Village on August 24.
In the traditional ceremony, participants prayed for a good catch in their region with Kaminchu (sacred people specializing in Ryukyuan religious practices) offering prayers at Asagi (houses of worship) at Taminato and Yako, where gods are summoned for ceremonies and rituals. This was followed by the Ugan Barley dragon boat race and ritual sumo.
It is said that Unjami Festival dates back some 400 or 500 years to the time of the Ryukyu Kingdom. It is held every year in the seventh month of the lunar calendar following the Bon season.
Spectators were served libation after the sacred Kaminchu dressed in white gowns offered prayers at the Asagi in Taminato.
In the Ugan Barley dragon boat race, the men brought the "Gods" on board three boats, which then raced from the Taminato area to Shioya. On the shore women waded into the water up to their hips, clapping their hands and beating drums as they greeted the boats.
Sixty year-old Akira Chinen, head of the Shioya district, said, "I am glad that this tradition continues. We do face issues when it comes to passing on these practices, but we want to make concerted efforts to work together in the community to resolve them."
(English Translation by T&CT, Mark Ealey)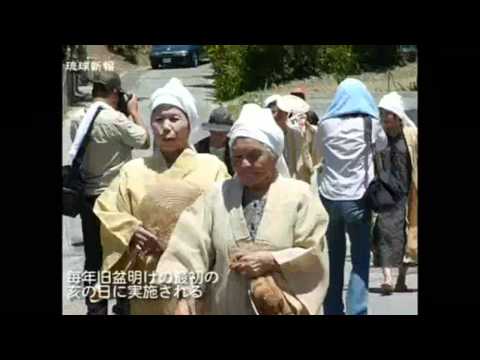 Go To Video
Previous Article:
Tomishiro Chuo Hospital establishes alliance with counterpart in Thailand
Next Article:
Argentina Okinawa Kenjin-Kai celebrates 60th Anniversary
[Similar Articles
]