Black-faced spoonbill has its beak hooked in the same kind of accident that occurred four years ago
March 5, 2012 Ryukyu Shimpo
On March 4 in the southern part of Okinawa's main island, a black-faced spoonbill, a species listed by the Ministry of Environment as "critically endangered" on its Red List, was found with a fishhook in its beak. A similar accident occurred four years ago, and on that occasion it took 38 days for the spoonbill to be saved. Those involved request that people fishing do not to throw away their hooks.
Shortly after 7:00am, when Kamenobu Oshiro from the Wild Bird Society of Okinawa found the black-faced spoonbill, he saw that a fishhook was hooked in its upper beak and that a piece of fishing line was wrapped around its beak. In the afternoon, something came off its upper beak, and the fishhook and the fishing line were hanging from its lower beak.
Throughout the day on March 4, people from the Wild Bird Society of Okinawa and Okinawa Veterinary Medical Association stayed to watch the bird. It was confirmed that the spoonbill could open its beak, however, as of 7:00pm that day it was not known if the spoonbill could actually swallow food after catching it.
Every year around November, black-faced spoonbills come to Okinawa for the winter. A marker was attached to this spoonbill in Korea to trace its migratory routes.
(English translation by T&CT, Megumi Chibana and Mark Ealey)

Slideshow of Black-faced spoonbill has its beak hooked in the same kind of accident that occurred four years ago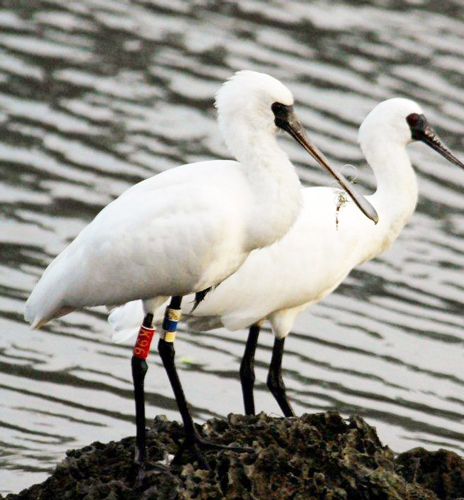 Previous Article:
[The Great East Japan Earthquake]
About 70 percent of evacuees in Okinawa feel "uneasy, but keen to return home"
Next Article:
Bearded mudskippers enjoy the spring weather
[Similar Articles
]