Bearded mudskippers enjoy the spring weather
March 7, 2012 Ryukyu Shimpo
On March 7 courtship displays by rare bearded mudskippers (tokagehaze or Scartelaos histophorus) were seen on the tidal flats in Fusozaki, Nanjo. Because the temperature was relatively high, the mudskippers stand up to attract each other before cuddling up with their partners. The timing is early this year, with this behavior normally witnessed around the end of March into April.
The bearded mudskipper or tokagehaze in Japanese is an endangered species listed in the Red Book of the Ministry of the Environment. It is unique to Okinawa, where Fusozaki and Nakagusuku Bay provide the largest area of habitat. It is 15 centimeters long and has a mast-like long dorsal fin.
A high-pressure system moving up from the south pushed the temperature high on March 6. A record high of 28.4 degrees celsius was recorded on Hateruma Island.
(English translation by T&CT, Shinako Oyakawa and Mark Ealey)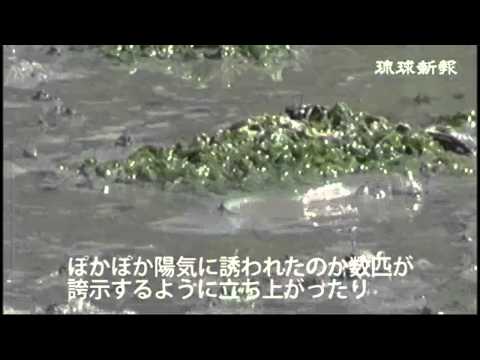 Go To Video
Previous Article:
Black-faced spoonbill has its beak hooked in the same kind of accident that occurred four years ago
Next Article:
1.6 billion yen paid towards the maintenance and repair of Futenma Air Station
[Similar Articles
]