Seven years since U.S. helicopter crashed onto Okinawa International University
August 13, 2011 compiled from reports of Ryukyu Shimpo
A rally seeking to stop all aircraft from taking off from the United States Marine Corps Air Station Futenma was held at Okinawa International University in Ginowan City on August 13, exactly seven years since a U.S. helicopter crashed onto its campus. Many people including university officials and local residents participated in the rally held in front of the monument where the helicopter crashed.
Moritake Tomikawa, President of the University, voiced his dissatisfaction with the current situation in which the risk of such accidents has not been resolved despite seven years having passed. In addition, MV-22 Osprey vertical takeoff and landing transport aircraft will be deployed next year. Tomikawa also said, "We will seek to immediately stop all flights from taking off from the Futenma Air Station, so we can live safely, peacefully, and without worry."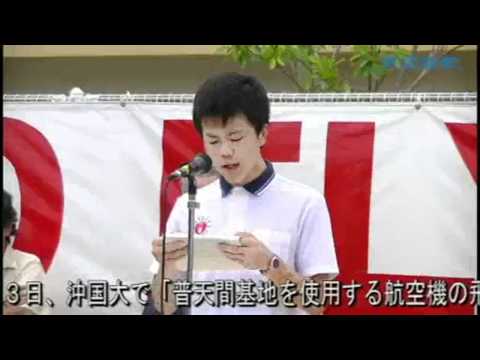 Go To Video
Ginowan City Officials seeking early closure of Futenma Air Station
August 12, 2011 compiled from reports of Ryukyu Shimpo

Seiei Komesu, the Deputy Mayor of Ginowan City, held a press conference at municipal offices, on August 12, a day before the seventh anniversary of the helicopter crash. Acting for the Mayor who was on sick leave, he released a statement seeking the early closure and return of the Futenma Air Station, and the elimination of risk to local residents.
The deputy mayor pointed out the responsibilities of the governments of Japan and the United States, saying, "No real measures have been taken to eliminate problems such as noise pollution and other negative impact on the residents in the 15 years since the SACO agreement was signed." He said also, "The helicopter crash is clear evidence of how dangerous this base is. The accident was the final warning for us of what can happen."
With regard to the deployment of MV-22 Osprey aircraft to the Futenma Air Station next year, he indicated his firm opposition, saying, "The deployment will increase the risk to the local residents." Regarding the relocation of Futenma Air Station, he said, "The functions of, and Marine Corps at, Futenma Air Station should be moved to U.S. territory such as its mainland, or to Hawaii or Guam."
"Funny tales about military bases in Okinawa" performance reflects reality through biting satire
August 14, 2011 compiled from reports of Ryukyu Shimpo

Performance Corps FEC held its first special version of "Funny tales about military bases in Okinawa" at Okinawa International University, on August 13, seven years since the helicopter crash. A large audience enjoyed short comedy skits with sharp satirical themes containing topical phrases such as "Futenma relocation outside the prefecture," "Osprey," and "Mr. Maher's remarks." The hall was packed with visitors and students from both within and outside the prefecture; so many that some people even had to stand.
In a parody of the popular TV show "Tokyo-based Friend" Prime Minister Naoto Kan played darts to choose where to relocate the U.S. Marine Corps Futenma Air Station. When he threw the dart it hit "Henoko" and then said, "It's difficult to move Futenma 'outside of the prefecture' after all." The audience responded with gales of laughter because most of the dart-board was occupied by "Henoko," and there was only a very small space remaining for "outside the prefecture."
Another skit had the former U.S. Consul General in Okinawa come to get a job in a lunch box stall saying repeatedly "Okinawan people cannot make even goya. Please do not put me with them," and another was a funny tale that has a wedding speech by the bride being given in the midst of deafening noise from U.S. military aircraft. A total of 11 short comedies were performed.
(English Translation by T&CT, Mark Ealey)
Previous Article:
Unke-ceremony to celebrate the return of ancestral spirits
Next Article:
Repaired fishing vessels donated to areas stricken by the Great East Japan Earthquake
[Similar Articles
]