Okinawans'lives continue being threatened by U.S. military aircraft 73 years after WWII
January 27, 2018 Ryukyu Shimpo
With the concentration of U.S. military bases on Okinawa, accidents and trouble caused by U.S. military aircraft are never-ending. Many incidents have occurred that injure and kill Okinawans, and their way of life has come to be threatened by military aircraft. On June 30, 1959 in Uruma City (in what was Ishikawa City at the time) a U.S. military jet crashed on Miyamori Elementary School. The accident resulted in 18 fatalities 11 of which were elementary school pupils, and over 200 people injured. Two years after the school incident another U.S. military jet crashed in Kawasaki, Uruma City (which was previously Kujikawa Village), killing two local citizens.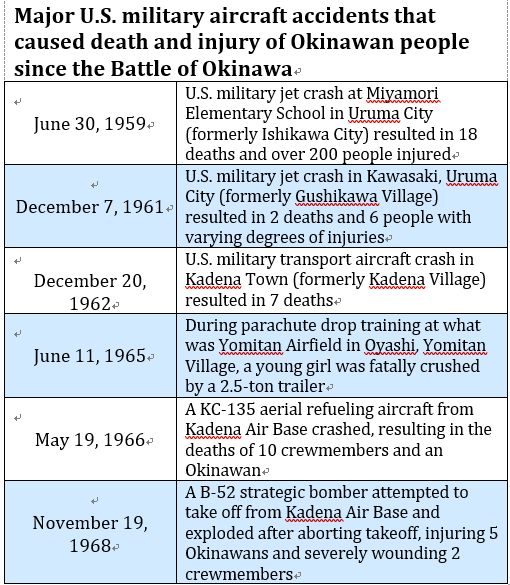 In 2004 a U.S. Marine Corps CH-53D large transport helicopter crashed on the grounds of Okinawa International University, although no Okinawans were injured in this incident. There are also many instances in which small errors could turn into catastrophes. One such instance was in December 2016 when an MV-22 Osprey vertical takeoff and landing aircraft from MCAS Futenma crashed off the coast in Abu, Nago City. Another example was in October 2017 when a CH-53E helicopter made an emergency landing and went up in flames in a field in Takae, Higashi Village.
According to prefectural statistics, between Okinawa's reversion to Japan in 1972 and the end of 2016, there were 709 accidents in Okinawa involving U.S. military aircraft. In the past 5 years there have been 187 such incidents, which calculates out to about 3 incidents per month. Upon entering 2018 there have already been 3 instances of U.S. military helicopters making emergency landings, including on January 23 when an AH-1 attack helicopter from MCAS Futenma made an emergency landing at a heliport meant for emergency transport in Tonaki Village.
(English translation by T&CT and Erin Jones)
Previous Article:
Fumiaki Matsumoto resigns from role as vice minister after jeer about recent U.S. military helicopter trouble
Next Article:
Fifth grade student successfully hatches quail's egg bought from store
[Similar Articles
]