Unke-ceremony to celebrate the return of ancestral spirits
August 13, Ryukyu Shimpo
On August 12, the first day of Okinawa's Obon called Unke, families who have family altars celebrated the return of their ancestral spirits with offerings of bananas and pineapples.
At the house of 74-year-old Kazuko Tokumoto, who resides in Komesu, Itoman City, 28 people from four households gathered at the family altar, pressed their hands together in prayer for their ancestors.
Dragon fruit cultivated by Koichi Tokumoto, Kazuko Tokumoto's late husband who passed away three years ago, grew again this year so some were placed in the family altar.
The eldest son of Kazuko Tokumoto, 49 year-old Hiroshi Tokumoto, who resides in Goya, Okinawa City, pressed his hands together in prayer in front of a totome, or spirit tablet, saying, "Please look at my children. They've grown up."

Throughout the prefecture troupes of Eisa dancers from Youth Groups moved through the streets and alleys of each community in what is called a
michijune
. People attracted by the
michijune
gathered along the roadside as the performers beat their drums boldly to the accompaniment of finger-flutes.
In most parts of the prefecture,
michijune
continues until
Ukui
, the final day of Obon on August 14.
The people of Okinawa City, which proclaims itself to be the "The City of Eisa," look forward to the Okinawa Zento Eisa Festival scheduled to be held from August 19 to 21.
The members of the Sonda Youth Group performed a spectacular Eisa dance on National Route 330 and other areas, receiving cheers and applause from the people watching on the side of the road.
(English Translation by T&CT, Mark Ealey)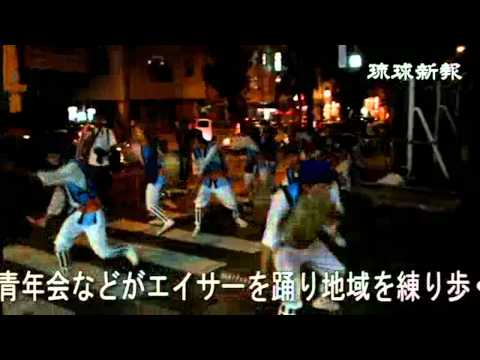 Go To Video
Previous Article:
Veteran alleges that U.S. military buried Agent Orange in Chatan
Next Article:
Seven years since U.S. helicopter crashed onto Okinawa International University
[Similar Articles
]