Seventy balloons released as protest against aircraft flights from Futenma Air Station
August 11, 2011 Ryukyu Shimpo
On August 10, three days before August 13, the date marking the seventh anniversary of a U.S. military helicopter crashing into a building at Okinawa International University, the anti-base women's group "Kamado guwaa no tsudoi" which has been calling for the early reversion of the U.S. Marine Corps Futenma Air Station and its relocation outside the prefecture, released about 70 balloons at Kakazu Takadai Park and eight other locations around Futenma Air Station in Ginowan City as a protest to demand an end to U.S. military flights from the station.
This is the second time since April for the group to fly balloons as a protest against the flights out of Futenma.
The Facilities Administration Division of the Construction Department of Ginowan City Hall, Okinawa Defense Bureau and the Prefectural Police Department sent staff to watch over the protest rally that occurred in several parks in the city.
The Okinawa Defense Bureau told people not to enter the empty land adjacent to the fence of Futenma Air Station near the guide light in UeOjana. When they roped off this land, claiming that it belonged to the U.S. military, some of the participants in the rally, responded by saying, "It shouldn't be forbidden to fly balloons on private property. Surely it is far more dangerous for both the U.S. and Japanese governments to allow military aircraft to fly over densely populated areas."
While this was all happening, KC-130 aerial refueling airplanes and CH-46 helicopters repeatedly took off and landed at the station.
With regard to safety, a representative of the U.S. Marine Corps Public Affairs explained, "Those aircraft fly safely, staying far enough way from the balloons."
Forty-five year-old Ushi Chinen, a member of "Kamado guwaa no tsudoi," said, "More people seemed to be sympathetic to this protest rally than the previous one. We were praised by many people too, and I realized that expressing our thoughts without being heavy-handed helps make American people understand the issue."
(English Translation by T&CT, Mark Ealey)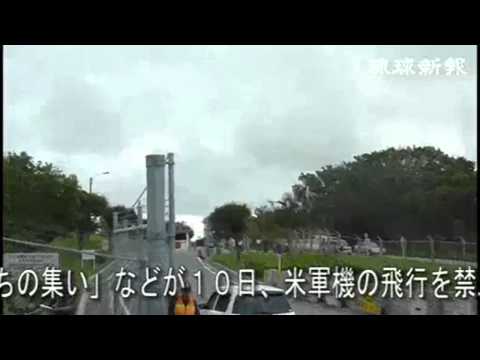 Go To Video
Previous Article:
Pro baseball spring training camps provide economic benefit of more than 8.6 billion yen to Okinawa in 2011
Next Article:
Colonialist attitudes behind the ex-US Japan desk diplomat's derogatory remarks about Okinawans
[Similar Articles
]