Islands in Okinawa and Amami to be designated World Heritage Sites after IUCN recommendation
May 11, 2021 Ryukyu Shimpo
The International Union of Conservation of Nature (IUCN), an advisory body for the United Nations Education, Scientific and Cultural Organization (UNESCO), announced May 10 that they would recommend "Amami Oshima, Tokuno Island, Okinawa's northern region and Iriomote Island," (Kagoshima, Okinawa prefectures) be registered as World Natural Heritage Sites. At the UNESCO world heritage committee session from July 16-31 this year, the committee will determine whether or not they will be added to the list, however they usually follow the IUCN recommendation. The addition will recognize the necessity of protecting the biodiversity of the Ryukyu archipelago, home to a large number of rare indigenous species.
If added to the list, it will be the fifth time an area of Japan will be recognized. Other locations include The Shirakami mountain range (Akita and Aomori prefectures), Yakushima (Kagoshima), Shiretoko (Hokkaido), and the Ogasawara Islands (Tokyo).
The area endorsed by the Japanese government for the list, is around 43,000 hectares of land covering Okinawa's northern region and Iriomote Island, and Kagoshima's Amami Oshima and Tokuno Island, and most of it is forest. The archipelago used to form a land bridge to the Asian continent before the sea levels rose, turning them into islands, leading to the evolution of a number of indigenous species on each island such as the Iriomote cat, the Okinawa rail, and the Amami rabbit. An emphasis was put on the importance of protecting these species.
In 2018, the scattered area nominated by the government was deferred so that they could reconsider adding areas to help preserve the continuity of the ecosystem. The government resubmitted after they added the northern region of Okinawa, which includes land returned to Japan that was previously the U.S. military's Northern Training Area (NTA), and an area on Iriomote that contains a drainage basin for its rivers. The additional territory added around 4,800 hectares of land.
In the recommendation, one of the indicators praised the "admirable effort" of the revisions to the proposal. They also requested that here after steps for appropriate management be taken. In particular: 1. Setting a limit to the number or tourists on Iriomote, and taking measures to reduce the number overall 2. Traffic regulations to reduce the number of rare species killed in traffic accidents 3. Develop a river restoration strategy to help revitalize natural resources, and 4. Establish a buffer zone to achieve suitable forestry management. They also requested that the status of these protective measures be submitted to UNESCO by December 1, 2022 for IUCN review.
(English translation by T&CT and Sam Grieb)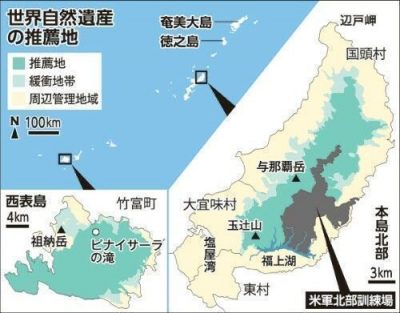 Previous Article:
Okinawan language usage down 13.5 points in FY 2020: 84% feel affection, 43% speak it
Next Article:
Pair of Yambaru-Kuina photographed in recommended World Heritage Site, Kunigami
[Similar Articles
]