Japan to resubmit Amami-Okinawa site nomination for World Natural Heritage List inscription
November 3, 2018 Ryukyu Shimpo
By Yuri Shimizu
On November 2, the Japanese government decided to resubmit nomination of an Okinawan site for United Nations Educational, Scientific and Cultural Organization (UNESCO) World Natural Heritage status.
The site is comprised of Amami Oshima, Tokuno Island, a northern part of Okinawa Island, and Iriomote Island (hereafter referred to as Amami-Okinawa).
Chief Cabinet Secretary Yoshihide Suga held a press conference the same day to announce the decision.
Suga said that Amami-Okinawa nomination is being resubmitted because the site is very likely to be granted World Natural Heritage status.
This is because Natural Heritage items are being given priority and the International Union for Conservation of Nature (IUCN), as an advisory body to UNESCO, has previously assessed the site.
The government plans to pass this decision through the Cabinet and submit a nomination file to the UNESCO World Heritage Centre by February 1 next year.
It is expected that the IUCN will conduct its field inspection next summer or autumn, and that the World Heritage Committee will make a decision on World Natural Heritage status at its meeting in summer 2020.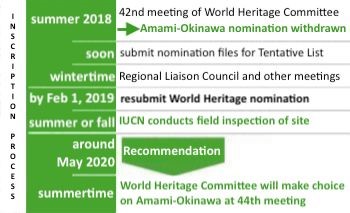 The Amami-Okinawa site satisfies selection criteria in terms of having a high level of biodiversity, and being a habitat of threatened species.
This site has competition for next year's nomination from a Cultural Heritage site in Japan on the Tentative List: the Jomon Archeological Sites in Hokkaido, Northern Tohoku, and Other Regions.
Nominations are limited to one World Cultural or Natural Heritage site per country, so whether or not Amami-Okinawa's nomination will be resubmitted is a point of focus.
Japan hoped to have the Amami-Okinawa site included on the World Natural Heritage list this summer.
However, in May the IUCN recommended deferral and requested revision to some contents of the nomination file.
This made incorporation on the World Natural Heritage List unlikely, so in June the nomination was withdrawn.
Information on NTA Land Decontamination
Japan has decided to resubmit nomination of the Amami-Okinawa site for inclusion on the World Natural Heritage List.
UNESCO policy requires that Japan make one nomination for Natural or Cultural Heritage.
Because Natural Heritage is being prioritized, the Amami-Okinawa site is likely to overcome domestic barriers to nomination.
However, many of the issues that the IUCN pointed out with the nomination remain.
One of the main reasons for the IUCN's deferral was that portions of the U.S. military Northern Training Area (NTA) returned in December 2016 were not included in the government's nomination file, so in June Japan moved to incorporate Yambaru National Park into the nominated site.
These portions are to be included in the IUCN's field inspection planned for next summer.
According to the Okinawa Defense Bureau (ODB) unexploded bombs, debris, and soil pollution were detected on the returned NTA land even after decontamination work.
There is concern over what experts will say about the returned land's environment during inspection.
The IUCN recommended that Japan cooperate with the U.S. military to manage nature conservation on NTA land that has not been returned to Okinawa, and yet no new agreements have been forthcoming.
Time is limited for Japan to submit its nomination file to UNESCO.
It must do so within the next three months.
If the nomination is not incorporated onto the World Natural Heritage List in 2020, it will cast doubt on future incorporation.
Japan has come to a critical juncture as it aims for certain incorporation of a site on the World Heritage List.
(English translation by T&CT and Erin Jones)
Previous Article:
Hopes of outperforming Hawaii in tourism dashed
Next Article:
Citizens protesting in Oura Bay ask for understanding that they do not want Henoko base
[Similar Articles
]